Dalam program Fringe, organisasi, komunitas, atau individu memiliki kesempatan untuk menciptakan acara mereka sendiri di dalam JIPFest. Perlu diketahui, tahun ini hampir semua acara Fringe berada di dalam area Indonesia Photo Fair di M Bloc Space, yang memberlakukan tiket terusan bagi pengunjung. Klik di sini untuk memesan tiket. 
EXHIBITION AT KALA KARYA & KALA DI KALIJAGA
SUARA ORANG MUDA: DEMOKRASI HARI INI
Oleh Photo-Demos
Klik di sini untuk memesan tiket
Pameran Foto: 8-24 Sep, 10:00-22:00, Akhir Pekan: 07:00-22:00
Tur Pameran: 9, 16, 23 September, 10:30-12:00
Kurator: Rosa Panggabean & Yoppy Pieter
Mentor: Ari Harisman, Edy Purnomo, Okky Ardya, Rosa Panggabean, Yoppy Pieter
Pembicara Tamu: Luthfi Ashari, N. Aidawardhani, Teliana Juwita
Fotografer: Alfian Romli, Arjuna Saputra, Deti Permatasari, Dini Putri Rahmayanti, Humaidy Aditya Kenedy, Husna, Nur Ainun S, Raphael Hayden Tanesia, Sulthony Hasanuddin, Vickram Sombu
COMMUNITY EVENTS AT CREATIVE HALL-M BLOC SPACE
SELASA, 12 SEPTEMBER
Klik di sini untuk memesan Daily Pass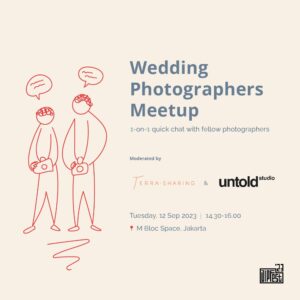 14:30-16:00 Portfolio Review
WEDDING PHOTOGRAPHERS MEET UP
Oleh Untold Studio & Terra Sharing
Pembicara:
Aldyanza, Founder of Imagenic
Bonjo Abadi, Co-Founder of Terralogical
Calvin Setiawan & Levana Cynthia, Founder of SINCĒRA
Ivan Irwan & Devi Gunawan, Founder of Cerita Tentang Senja
Jonathan Susilo, Founder of Calia Photo
Leonardus Aditya, Founder of Bare Odds
Max Willy, Photographer at Max Willy Photography
Mike Yada, Photographer at Calia Photo
Prabumi Vega, Creative Director of Owlsome
Reynard Karman, Founder of Reynard Karman Photography
Ridwan Didot, Founder of Native Visual
Tito Rikardo, Founder of THEUPPERMOST Photography
16:30-18:00 Talk Show
A STORY BEHIND THE DAMPIT RETROSPECTIVE PHOTOBOOK
Pembicara:
Arief Priyono
Yoppy Pieter
Moderator: Dewi Pascarani
18:30-20:00 Talk Show
JEJAK BUMI: FOTOGRAFI DALAM KONSERVASI
Oleh Yayasan Konservasi Alam Nusantara
Pembicara: Rizya Ardiwijaya, Coral Reef Specialist at YKAN
Moderator: Vania Herlambang, Nature Ambassador of YKAN
RABU, 13 SEPTEMBER
Klik di sini untuk memesan Daily Pass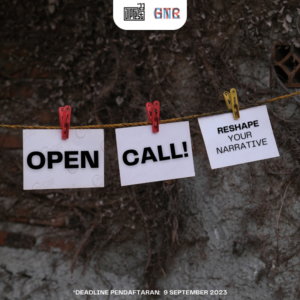 14:30-16:00 Workshop
RESHAPE YOUR NARRATIVE
By Heterogenic
Mentor: Yoppy Pieter
Moderator: Qolbee Maliki
16:30-18:00 Talk Show
PRESENTATION: FUNDAMENTAL FASHION PHOTOGRAPHY
Oleh Saeffie Adjie Badas
Pembicara: Saeffie Adjie Badas, Fashion Photographer
Moderator: Ridhwan Siregar, Photographer, Journalist
18:30-20:00 Talk Show
SHARING PHOTOTHERAPEUTIC BY WALKING WITH RAWS
Oleh RAWS Syndicate
Mentor: Grace Anata Irlanari, Art Therapist, Co-Founder of Laskar Kampungku Photography Community
SELASA, 19 SEPTEMBER
Klik di sini untuk memesan Daily Pass
13:00-14:00, Book Launch & Signing
BENEATH THE NOSTALGIC SKY
Oleh Jessica Candradi
Pembicara: Jessica Candradi, Fashion and Portrait Photographer
Moderator: Nina Hidayat
14:30-16:00 Talk Show
SOMETHING BIGGER THAN YOURSELF
Oleh Indonesia Professional Photographer Association (IPPA)
Pembicara:
Firman Ichsan, Curator, Photographer, Board Chairman at IPPA
Gumilar Tryas, Photographer, Founder of Numotomidio
Muhammad Azmi, Founder of File Academy, Head of Membership at IPPA
16:30-18:00 Talk Show
BEASISWA & PENDIDIKAN FOTOGRAFI BAGI PEWARTA FOTO
Oleh Permata Photojournalist Grant
Pembicara:
Nita Dian, Redaktur Foto at Koran Tempo
Felix Jody Kinarwan, Kontributor Fotografer di Project Multatuli
Muhammad Tohir, Fotografer Majalah Gatra
Moderator: Malahayati, Chapter Leader Women Photograph Indonesia
18:30-20:00 Talk Show
PROYEK KARYA FOTO DOSEN DAN MAHASISWA DI KAMPUS
Oleh Universitas Multimedia Nusantara
Pembicara:
Taufan WIjaya, dosen Universitas Multimedia Nusantara.
Felisitasya Manukbua, mahasiswa Universitas Multimedia Nusantara.
RABU, 20 SEPTEMBER
Klik di sini untuk memesan Daily Pass
14:30-16:00 Talk Show
MENOLAK TAKDIR SISYPHUS: ORANG MUDA TENTANG DEMOKRASI KITA HARI INI
Oleh Yayasan Kurawal 
Pembicara:
Coory Yohana – Koordinator Umum Pamflet Generasi
Gendis Syari Widodari – Aktivis Masyarakat Sipil
Humaidy Kenedy – Fellow Photo-Demos 2023
Moderator: Charlenne Kayla Roeslie – Program Officer PannaFoto Institute
16:30-18:00 Talk Show
HOME WORK BEFORE ART WORK: REALISTIC GUIDE TO START FREELANCING
Oleh Women Photograph Indonesia
Pembicara:
Gina Priadini, Entrepreneur
Malahayati, Chapter Leader of Women Photograph Indonesia
18:30-20:00 Talk Show
PRESERVING MEMORIES AND EMBRACING TIMELESSNESS: CONNECTING GENERATIONS THROUGH ANALOG PHOTOGRAPHY
Oleh Bersoreria
Pembicara: Dimas Sugih Cahaya, Pendiri BersoreRia
Untuk informasi lebih lanjut, hubungi program@jipfest.com atau 0856-4306-7397 (Agoes). JIPFest berlangsung dari 8-24 September 2023 di Blok M, Jakarta. Festival ini didukung oleh Kementerian Pariwisata dan Ekonomi Kreatif Republik Indonesia, Dinas Pariwisata dan Ekonomi Kreatif DKI Jakarta, Erasmus Huis, serta Kurawal Foundation.