Discussion, JIPFest's regular program, elaborates various issues in the field of photography and creative industry. In its third edition, the festival features six discussion sessions, all are conducted in Indonesian language and held on weekends at Bulungan Theater. To support the sustainability of the festival, starting this year JIPFest charges tickets for several talk shows.
SCHEDULE & VENUE
Schedule: 10, 11, 17, 18, 24, 25 September
Venue: Bulungan Theater, Jakarta
TOPICS & SPEAKERS
Revival: JIPFest 2022 Curatorial Discussion
Saturday, 10 September, 15:00-16:30
Revival, JIPFest 2022 main theme, reflects on how humans or ideas bounce back from a steep decline, gaining momentum, garnering support, and driving movements. The theme is also selected to reflect the spirit of our time, as the world is recovering from pandemic aftermath. Click here to book your ticket.
Panelists:
Asep Topan
Asep is an independent curator and lecturer at the Jakarta Institute of Arts. Between 2013-2022, he has curated 20 art projects and exhibitions in Indonesia and overseas. During that period, he worked as the curator of Museum MACAN (2018-21) and the Vice Director of Jakarta Biennale 2017.
Ayos Purwoaji
Ayos is a writer and curator in history, architecture, and visual art. Since 2015, he has worked on a few exhibitions and curatorial projects, including Flux de Mémoire/Arus Memori (2020) and Jogja Biennale XVI (2021). He is co-founders of Surabaya Contemporary Heritage Council and is part of Kelompok Kurator Kampung.
Ng Swan Ti
Swan Ti is the Managing Director of PannaFoto Institute. Recently, she has been involved in various photography initiatives as co-curator Vision 20/20: Community exhibition (Jakopič Gallery, 2020), Erratic Dream (PhMuseum, 2021), and Tracing Inherited History (Hong Kong International Photo Festival, 2021).
Moderator: Wahyu Gunawan
Gunawan, Head of Management Team of Kelas Pagi Jakarta, has been involved in several art projects, including "Jinayah Siayasah" (2014), Harjono Sigit Architecture Archives Exhibition (2015), Suvi Wahyudianto Solo Exhibition "Homo Sapirin" (2016), and "Bongkar Muat" (2016).
The Two Faces of NFT
Sunday, 11 September, 15:00-16:30
For photographers, non-fungible token promises a higher level of security and control, as well as a wider market access in selling digital works. But this promise has a dark side. The energy-thirst NFT poses a significant threat to the environment. This discussion will explore the two faces of NFT and its landscape in Indonesia. Click here to book your ticket.
Panelists:
Asih Karnengsih
Asih is the Chairwoman of the Indonesian Blockchain Association, and the Executive Committee of ASEAN Blockchain Consortium. She holds an MA in Marketing Management from Mercu Buana University, and an BA in Broadcast Journalism from Universiti Sains Malaysia.
Weldi Rhadiska
Weldi, who holds a Diploma in Photography from Lasalle College Jakarta, is a digital artist who has been selling his NFT works since 2021. He is also known as the founder of the Monday Art Club NFT community. Currently, he is working as Community Manager at Gaspack NFT Launchpad.
Moderator: Dita Alangkara
Dita, the Chief Photographer of the Associated Press (AP) Jakarta bureau, has covered various stories mainly in Asia-Pacific. In 2014, he was part of the AP investigative team that exposed slavery practice in seafood industries in Southeast Asia, a story that won AP the Pulitzer Prize for Public Service in 2016.
Redefining History Through Photography
Saturday, 17 September, 15:00-16:30
Photo captures moments and provides a window into the past. However, looking at photo archives is not the only way to learn history. With the use of documentary approach, a number of photographers have been trying to offer alternative perspectives to the past, by tracing their footsteps from the present. Click here to book your ticket.
Panelists:
Fransisca Angela
Fransisca is a storyteller whose practice involves photography, research, and writing. Using personal narrative, her approach is collaborative and intimate. Her work mainly touches upon human stories in relation to place, the in-between, and memory.
Erly Bahsan
Erly is a lecturer at University of Indonesia and civil engineer who often explores street photography. He started joining street photography communities around the 2010s. In 2012, he received a Special Mention Award at the Street Photography Asia event held by Invisible Photography Asia.
Muhammad Fadli
Fadli is a documentary photographer and producer. His works have been exhibited in various photo festivals and published in international publications. His latest book, The Banda Journal (2021), won the Photobook of the Year 2021 Award by the Paris Photo-Aperture Foundation.
Moderator: Andang Iskandar
Andang, a postgraduate lecturer at ISBI Bandung, graduated from the Doctoral Program in Cultural Studies from the Padjadjaran University. He is the Chair of the Indonesian Photography Certification Institute (LESKOFI) and Co-founder of the Indonesian Photography Archive.
Double Standards in War Coverage
Sunday, 18 September, 15:00-16:30
The war in Ukraine exposes the biases and double standards in mass media coverage. In many cases, media outlets allocate bigger exposures and more sympathetic narrative to the Ukrainians, in comparison to the war victims in Yemen, Syria and Palestine. What is the reason? And what do we need to understand from the phenomenon? Click here to book your ticket.
Panelists:
Yovantra Arief
Yovantra, the Executive Director of Remotivi, has interest in media and cultural research and advocacy. Before taking up position as Executive Director of Remotivi, he served as the Content Director (2018-2019) and Head of Audio Visual (2015-2018).
Raymundus Rikang
Raymundus, the National Desk Editor at Tempo Magazine, was sent to cover the Russian invasion of Ukraine, including the migration of millions of refugees in Ukraine and Poland. Previously, he joined the Pandora Papers investigation project, coordinated by the International Consortium of Investigative Journalists (ICIJ).
Moderator: Mast Irham
Irham is the Chief Photographer of the European Pressphoto Agency (EPA) for Indonesia. He joined EPA in August 2004. Working as a photojournalist for more than 18 years, he has reported various political, economic, disaster, and sports news at home and abroad.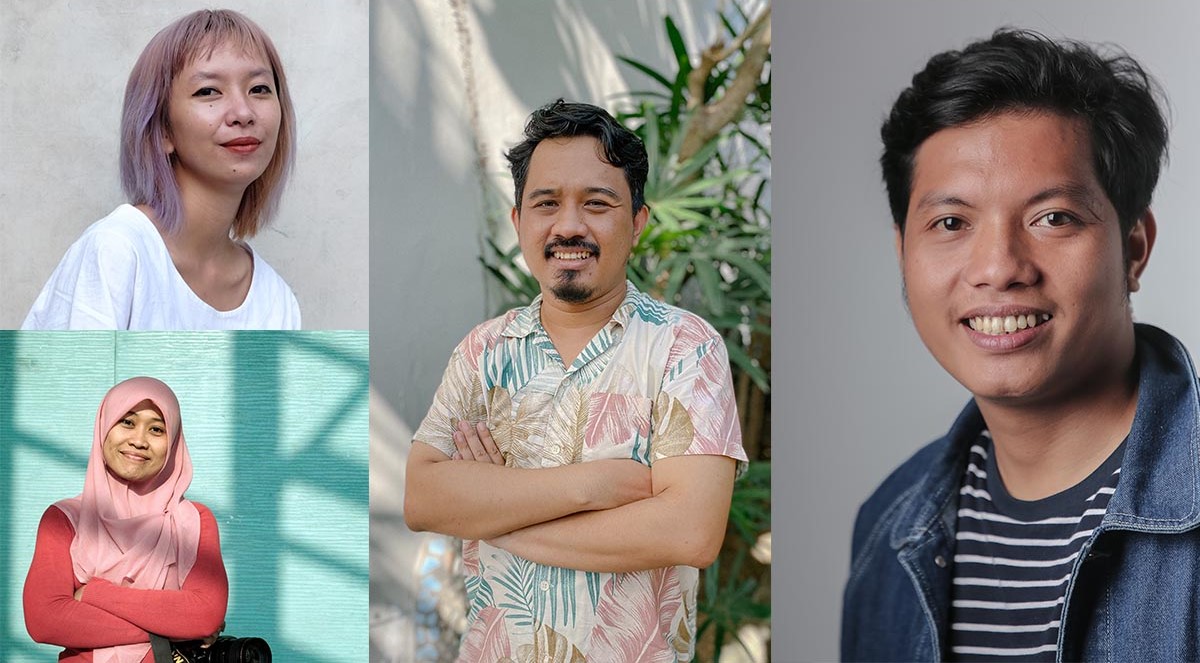 The Aftermath: Two Years into the Covid Pandemic
Saturday, 24, September, 15:00-16:30
The pandemic has turned into endemic; the measure has been eased. You might see a light at the end of the tunnel, but Covid is passing with various problems in its path, from unemployment, domestic violence, to the increasing number of orphans—and stories of marginalized people experiencing these problems are often lost in official state reports. How do photographers document the disastrous social trail of Covid? Click here to book your ticket.
Panelists:
Putu Sayoga
The Bali-based documentary photographer regularly contributes to international publications. For his personal projects, Putu explores issues of education, culture, and politics. Some of his works have been published by Bloomberg, The New York Times, ZEIT Magazine, Le Monde, and Forbes Asia.
Amal Purnama
Amal, who works in digital marketing , enjoys photography and collaborative projects with socio-cultural angle. She took part in the Pagebluk di Akar Rumput project, the documentary team of the Yogyakarta Cultural Festival, Kisah-Kisah Tanah Manusia Exhibition, and Dialog Lensa.
Muhammad Zaenuddin
Zaenuddin, a photojournalist at Katadata.co.id, has interest in environmental issues and social changes. He participated in the KELANA Arkademy Project (2019) and the 2021 Permata Photojournalist Grant. In 2022 his work was granted the Best Photo Essay in General News category by the Indonesian Photojournalist Award.
Moderator: Eka Nickmatulhuda
Eka, a Jakarta-based documentary photographer, explores issues of health, environment, and women. Apart from working on personal projects, she works for NGOs and international publications. Eka also manages the Women Photograph Indonesia community.
An Ecosystem in Limbo: Too Many Photographers, Not Enough Professionals
Sunday, 25 September, 13:00-14:30
From colleges to courses to communities, various organizations have been producing photographers. However, to create a healthy photography ecosystem, Indonesia needs a supply of "complementary" professions, including photo curators, critics, exhibition designers, art handlers, and researchers. Who will take the task? Where do we start? Click here to book your ticket.
Panelists:
Pongky Adhi Purnama
Pongky, a commercial photography practitioner and a photography academic, is the Head of the Photography Study Program at Trisakti University. He also teaches photography at several other universities in Jakarta.
Darwis Triadi
Darwis Triadi is a professional photographer, specializing in glamor photography and fashion photography. He is also the Founder of Darwis Triadi School of Photography, and is a frequent guest lecturer at various public and private universities in Indonesia. In addition, he has published several books on photography.
Ben Laksana
Ben, a doctoral student at Victoria University of Wellington, has been working as a researcher and educator for various international and local organizations for more than eight years. He is also the Co-founder of Arkademy Project.
Moderator: Muhammad Azmi
Azmi, a Bandung-based photographer, is the founder of fileacademy.id, a photography and entrepreneurship education platform, and the initiator of the NIIS (Newness Idea and Integrated Smart) Indonesian Photopreneur Conference.
If you have any questions, please contact us at program@jipfest.com or +62813-1038-7844 (Bulan).
JIPFest is scheduled for 9-25 September 2022 in Blok M, Jakarta. The festival is supported by the Indonesian Tourism and Creative Economy Ministry and Jakarta Tourism and Creative Economy Department.